---
Andreas Grün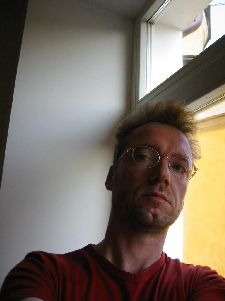 was born in 1960. He studied music education and musicology in Karlsruhe (Germany). With a grant from the Chigiana Music Academy he attended the master classes of Oscar Ghiglia in Siena (Italy), and finished his instrumental education as a scholar of the German Academic Exchange Service in Vienna (Austria) with Konrad Ragossnig. Afterwards he studied composition with Wolfgang Rihm in Karlsruhe and with Rudolf Kelterborn in Basel (Switzerland).
Andreas Grün is not only a soloist, he also performs many concerts as a chamber musician. His repertoire covers all epochs from the masterpieces of the Renaissance up to and including the most contemporary works, having given various première performances. He has appeared as a soloist with several orchestras, taken part in international festivals and made a number of solo and ensemble recordings for radio, LPs and CDs. – In 2001 Andreas Grün and his partners, the Ciurlionis String Quartet from Vilnius, received the second prize of the International Chamber Music Competition Schweinfurt, the highest award given to an ensemble with guitar. – In 2016 he played the posthumous première of the music for the radio drama The Sixth Canto, Hans Werner Henze's most early work for solo guitar, which Andreas Grün recently discovered.
Grün also works in many fields of music education. He teached at the Karlsruhe Music Academy and at the University of Music of Mannheim, 2006–2021 he was guitar docent at the University of Music of Trossingen.
Grün has edited and arranged music for different publishing houses and has written several musicological essays for periodicals. His compositions – works including solo, chamber, vocal and orchestral music – are performed and broadcast in several countries.

more detailed biographical information (German)
Press Comments on Andreas Grün's Playing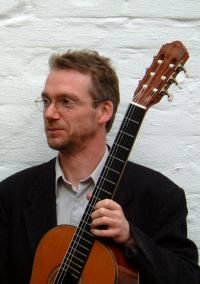 Von den ersten Akkorden … an … herrschte eine schier atemlose Stille im Publikum. Es waren keineswegs virtuose Effekte, die eine solche Konzentration bewirkten, sondern die suggestive Art und Weise, wie Andreas Grün die musikalischen Figurationen herausarbeitete. Er modellierte behutsam und zart die einzelnen Motive, schuf leise Übergänge, baute die Spannungsbögen sachte auf und ließ sie nachklingen.
From the first chords on … the audience was almost breathlessly silent. It was not the virtuoso's effects, which achieved such a concentration, but the suggestive manner in which Andreas Grün worked out the musical figurations. Carefully and gently he elaborated the individual motifs, created soft transitions, cautiously built up the tension and lingered on the phrases.
Pforzheimer Zeitung
Andreas Grün wusste seinem Instrument Farben abzugewinnen, das Liniengeflecht bestechend klar nachzuzeichnen und auch schließlich dem virtuosen Spiel sein Recht zu geben. Was aber am meisten beeindruckte, war sein urmusikalisches, lebendig atmendes Musizieren. Der Hörer war nie gelangweilt, obwohl eine einzelne Gitarre längst nicht den Raum so besitzergreifend füllt wie beispielsweise ein Flügel.
Doch war dieses intensive Spiel Andreas Grüns so voller Abwechslung, so voller dynamischer Nuancen und so voller plastischer Klarheit, dass die Spannung vom ersten bis zum letzten Ton anhielt.
Andreas Grün knew how to get colours out of his instrument, to draw deceptively clearly the mesh of the lines, and last but not least to concede the right of virtuosity. But what impressed mostly was his extremely musical, lively breathing style of playing. The listener was never bored, although a single guitar doesn't take possession of the room as for example a grand piano. But the intensive playing of Andreas Grün was so full of vivid clarity, that the tension remained from the first to the last tone.
Südwest Presse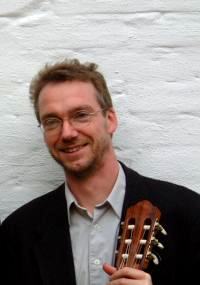 Aus der Feder von Joh. Fr. Fasch … stammte das Konzert für Gitarre, Streicher und Basso continuo d-Moll. Andreas Grün aus Karlsruhe stellte beispielhaft die Klangfülle und -schönheit des Soloinstrumentes vor; der zweite Satz, ein reiner Ohrenschmeichler. Die grifftechnischen Herausforderungen dieses Werkes wurden mit spielerischer Leichtigkeit gelöst.
The Concerto for guitar, strings and basso continuo in d minor was written by Joh. Fr. Fasch. Andreas Grün, from Karlsruhe, impeccably presented the solo instrumentís sonority and the beauty of its sound; the second movement – really charming the ear. The technical challenges of the piece were overcome with the greatest of ease.
Oberndorfer Zeitung
A. Grün, par sa technique éblouissante, prouvait son degré stupéfiant de virtuosité.
By his impressive technique A. Grün displayed a stupendous degree of virtuosity.
Vevey-Riviera
Reiktu pazymeti isties reta atlikejo universaluma bei preciziskuma. Kazin ar atsirastu Lietuvoje panasaus lygio klasikines gitaros meistras.
We should note the really rare universality and precision of the performer. Who knows if you could find in Lithuania a master of the classical guitar on a similarly high level.
Durys, Klaipeda
Eine perfekte Aufnahme! … Man kann diese Werke kaum besser spielen. … Den Gitarristen erkennt man sofort als großen, feinsinnigen Künstler. Er spielt mit erlesenem Schönheitssinn und musikalisch motivierter Nuancierfähigkeit.
A perfect recording! … You can hardly play these pieces better. … We recognize the guitarist immediately as a great, sensitive artist. He plays with a select sense of beauty and a wealth of musically founded nuances.
Das Orchester

more reviews (German)
Press comments on Andreas Grün's compositions
Unzweifelhafter Höhepunkt … war eine "symphonie fantastique en miniature", wie Frank Michael die Komposition seines Musikerkollegen Andreas Grün nannte. Sein "Capriccio über mi-chae-la" geriet zur spannenden akustischen Darstellung der Chaostheorie.
The indubitable highlight … was a "symphonie fantastique en miniature", how Frank Michael called his colleague's Andreas Grün's composition. The "Capriccio on mi-chae-la" turned out to be an exciting acoustic representation of the chaos theory.
Marburger Neue Zeitung
Die eindrucksvollste Komposition dieses Abends war vielleicht das Streichtrio "Schatten – Spuren – Splitter" "für Träumerohren" von Andreas Grün …
The most impressive composition of this evening probably might have been the String Trio "Schatten – Spuren – Splitter" (shadows – traces – splinters) "for dreamers' ears" by Andreas Grün.
Badische Neueste Nachrichten
Das Morbide seiner Epoche hat Trakl vorausgeschaut, und Todessehnsucht erfüllte ihn in kühn formulierten Nachtbildern. Grüns Vertonungen sind adäquat, voll düsterer Schönheit, in einem fahlen Glanz. Da wird nicht gelärmt, gestottert und gegeckert, sondern beklemmend schön gesungen.
Trakl has foreseen the decadence of his epoch, and full of longing for death he boldly put into words his night visions. Grün's settings are adequate, full of gloomy beauty, in a pale shine. There is no blaring, no stuttering nor stammering, but oppressively beautiful singing.
Pforzheimer Zeitung
Bezwingende Wirkung mit seinen hämmernden Klavierbasstönen in den Ecksätzen löste das plakative, höchst eindringliche Klaviertrio Nr.1 aus, das Andreas Grün … komponiert hatte.
Andreas Grün's striking, extremely forceful Piano Trio No 1, by its hammering piano basses in the first and the last movement, caused an overwhelming impact.
Badische Neueste Nachrichten

more reviews of the compositions see via the particular links

more information on the page Works
---